Early Background
Garfield Wood never intended to go into the boat building business. His goal was to personally set every speed record on water and be recognized as the world's speedboat king. However, as he set forth to achieve these goals, he was influenced by colleagues and friends and as a result built one of the world's finest line of production recreational sport boats.
Today Gar Wood boats are among the most sought-after classic boats in the world. The fascinating events that led to the development and production of Gar Wood boats is one of the most interesting stories in boating history.
Garfield Arthur Wood was born in l880, the oldest of l3 brothers and sisters. He was named after both the nation's President and Vice President, James Garfield and Chester Arthur. His father had run away to join the Union Army as a drummer boy when he was younger, so it was only natural that he would name his first son after America's leaders.
Gar's father was a ferryboat operator on Lake Osakis in Minnesota and often him along to help crew on the ferries. Frequently a race between ferry boat operators would emerge. It was good for business to have a reputation for speed, so races were often taken seriously. Young Gar Wood learned early that speed on water meant recognition and fame. Working with his father, Gar also developed unusual mechanical skills far beyond his years, most notably an aptitude for inventing devices to solve mechanical problems. These skills would continue to develop within him and result in hundreds of patents in his lifetime. However, one invention and patent would create a personal fortune and make him a racing legend.
Invents Hydraulic Lift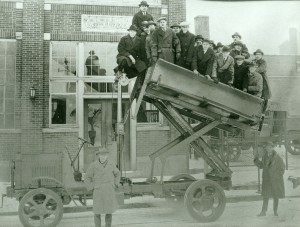 By the turn of the century Gar and his wife Murlen lived in St. Paul where he was involved in a number of enterprises including a traveling repair shop to service machines and early automobiles. Despite the rapid industrial growth surrounding him, Gar was still on the outer edge and had not begun to prosper from it. In 1911 at age 31 Gar focused his creative skills on a mechanical device that would unload coal trucks. Coal was a common fuel for home and industrial use, yet the only way to unload trucks was slow and difficult. He convinced a local coal company to lend him a truck to try out his new invention. With Murlen by his side, and their life savings invested, Gar demonstrated his hydraulic lift. He had attracted several potential investors who insisted on getting in the truck bed to see how it worked. When Gar dumped them in the street with the pull of a lever, they knew he had a marketable product. The demand for the hydraulic lift was so high that Gar built an industrial empire around it.
Gar's eight brothers soon joined in on his venture and they moved everything to Detroit where they established the Wood Hoist Co. Along side other emerging giants like Ford, Dodge and Chalmers, Wood's fortunes grew allowing him the opportunity to participate in his first love – speedboat racing.
Purchases Chris Smith Boat Co.
At the noonday meeting of the Detroit Exchange Club in 1916, Lee Barrett, secretary of the Miss Detroit Powerboat Association made a plea for some local Detroiter to help out the syndicate and purchase Miss Detroit I. The man that stood up and volunteered was Gar Wood. After he agreed to purchase Miss Detroit I he left for Algonac to see her. While he was there he also bought the yard that built her – the Chris Smith and Sons Boat Company. For the next six years Chris Smith built racing boats under the direction of Gar Wood. With Gar Wood driving and Smith building the boats, they won 5 straight Gold Cups from 1917-1921 and 2 Harmsworth trophies in 1920 and 1921.
"Baby Gar" Era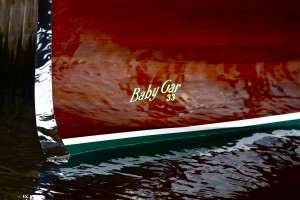 During the winter of 1921-22 the rules governing the Gold Cup Races were changed dramatically by the American Power Boat Association. The changes limited engine size, length and configuration of hulls. The rules committee said that they wished to encourage "Gentlemen's Runabouts" that could be used for family recreation as well as racing. However, the intended target of these changes was Gar Wood whose advanced technology and use of aircraft engines had totally dominated the Gold Cup since 1917. It was clear the rules were designed to limit and frustrate Gar Wood.
Always up for a challenge, Gar Wood and chief designer Nap Lisee developed an entirely new boat as their version of the Gentleman's Runabout. The result was the legendary 33′ "Baby Gar" Runabout.
The new Baby Gar was a superb design. It was a comfortable, safe runabout with 3 cockpits and a bottom that incorporated all of the characteristics of his previous Miss Americas. The performance of this Baby Gar was so impressive that some of America's wealthiest sportsmen appealed to Gar Wood to build one for them. Edward Noble, William Randolph Hearst, John Dodge, Col. Vincent and P. K. Wrigley were among the first to purchase Baby Gars. Soon Gar Wood had to set up a whole section of his Algonac plant to build Baby Gars just to fill special orders. By 1924 Howard Lyon of New York City had convinced Gar Wood that he should place Baby Gars in regular production and Lyon would sell all he could build. Two years later Howard Lyon ran a double page ad in Motor Boating magazine that listed the names of 60 of the world's most prominent sportsmen who were already Baby Gar owners.
What began as an attempt by the APBA to end Gar Wood's domination of the Gold Cup competition resulted in an entire new line of runabouts that became the playthings of millionaires. Gar Wood was now in the boat building business and the small Algonac plant was stretched to the seams.
In 1923 Chris Smith and his sons separated themselves from Gar Wood and decided to operate their own boat building company under the name "Chris Craft Boats". Chris Smith wanted to build a full line of stock boats on a production system to reduce cost and make them more affordable. He was convinced that promotion, advertising and high volume was the key to achieving his goals.
In 1927 a smaller version of the original Baby Gar was introduced at the National Boat Show in New York. The new 28′ Baby Gar was an instant hit and sales exceeded those of the larger 33′ model. In addition to these stock runabouts the small Algonac plant built high speed custom cruisers and the Miss America racers.
Gar Wood was also becoming an industrial giant with his manufacturing plants in Detroit. Boats to him were a source of pleasure and he wanted to achieve the highest in quality, engineering and performance for those who could afford his boats.
The small Algonac plant was now no longer capable of meeting the production demand for Gar Wood boats, so Gar decided to build a new factory.
World's Finest Boat Factory
Gar Wood's experience with hydraulic hoist production demonstrated the value of efficiency of facilities design. His new boat plant would be designed to be the finest boat building factory in the world. In 1930  Gar opened a new factory that could produce 1200 custom quality boats a year in Marysville, Michigan. The same excellent standards of quality, finish and performance that had been a Gar Wood tradition would be maintained, with higher production and a new variety of models. The new Gar Wood factory opened right on schedule just 3 months after the nation was rocked by the stock market crash.
The first production year for Gar Wood in Marysville included two basic models: the 28′ Runabout and the new 22′ Runabout. The 28′ runabout was also offered as a limousine, a sedan, and a landau. The Algonac plant continued to produce the 33′ runabout which would be the new stock version of the Baby Gar hull. A stock 40′ Commuting Cruiser was also being built at Algonac.
The production line remained the same in 1931 but was expanded in 1932 to include an 18′ split cockpit runabout and a very well-received 25′ triple cockpit runabout. Both the 28′ and 25′ runabouts were given the famous Gar Wood folding V-windshield that would become a trademark for the next ten years. This windshield was an extremely well-designed feature advanced for its time and never exceeded for beauty.
Speedster Era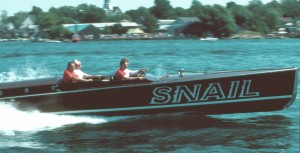 The next change came in 1934 with the introduction of the 16′ split cockpit runabout. In the middle of the year Gar Wood received a personal request from his good friend Edward Noble, owner of the Lifesaver Candy Company. Since 1926 Noble had been speeding on the St. Lawrence River in his famous 33′ Baby Gar, SNAIL. He told Gar Wood that he and his friends on the St. Lawrence River wanted a small, sporty racer that would be like a water version of the popular European sports cars. Gar Wood's answer was a high performance sixteen footer with 2 seats aft of the engine that he called the "Speedster". Its performance and appearance was similar to a cut-down Miss America racer. Noble fell in love with the boat and the first dozen produced were sent to the St. Lawrence River for Noble and his friends. His speedster was named Miss Behave and others in the group were called Miss Adventure, Miss Chief, and Miss Conduct. Speedster racing became a regular event on the St. Lawrence River until the beginning of World War II. (Miss Behave now resides at ABM.)
The success of the Speedster made Gar Wood receptive to customer suggestions. So in 1935 Gar Wood introduced its first utility, a 20′ model and a 26′ family cruiser for four because their dealers felt that these models would make the line more popular to the growing numbers of people and families who were becoming interested in boating.
The trend continued in 1936 as Gar Wood introduced an 18′ Utility and a 32′ Express Cruiser.  They additionally offered streamlined sedan cabin versions of the 18′ and 20′ utility models. The 18′ runabout was offered with twin cockpits forward for the first time in this length.
By 1937 boating popularity was growing throughout the United States. Dealers were expanding their inventories and the outlook was very bright. The new Gar Wood catalog had a full color cover and 30 pages filled with photographs of their full line. The utilities proved so popular that in 1937 they introduced a 24′ model that would remain in the line until 1942. A sedan version was offered and also proved to be a hit. 1937 was also the year that the very popular 19′ runabout made its debut.
The new boat of 1938 was the revolutionary rear-engined Streamliner. This was the hull of the 22′ runabout with 3 "cockpits" forward of the engine that was all the way aft. By using a Chrysler crown with a special reduction V-drive, the Streamliner had excellent speed with a modest size engine.
The 1939 Trophy Fleet was introduced with great fanfare at the National Motor Boat Show in New York. It was the most complete fleet ever offered and the design detailing was superb. All runabouts had barrel bows and the utilities had the finest styling in the industry. The sedan utilities were unsurpassed for their good looks and customer acceptance. An additional surprise was the introduction of the 24'6″ "Overniter", a high performance pocket cruiser built on the proven hull of the 24'6″ utility.
The large Gar Wood display at the National Motor Boat Show was selected by major boating magazines as the best in their history. Gar Wood was on a roll and production was at its maximum output for the first time since the Marysville plant opened 10 years earlier.
His production continued through 1940 without changes in any models. In 1941 the barrel bow styling was given to the 24'6″ utility as well as a larger, redesigned windshield. The sedan utilities had mahogany extended tops over the windshields which were called military visor styling. The 24'6″ Overniter was completely restyled and was the best-looking, high-performance pocket cruiser in America. Two totally new boats were added to the 1941 line that shared the same 30′ hull. One was the unique Commuter and the other was the Commodore, a handsome trunk cabin sport cruiser.
It was just about this time that Gar Wood, age 60, decides that it's time to retire to his island home in Miami. His plans are to continue inventing and designing new products, but to divest himself from Gar Wood Industries. Although some boats were offered in 1942, they were essentially left over 1941 models. With the start of World War II the Marysville plant converted entirely to war-effort production of' target boats and military tug boats.
Post War Designs
In early 1945 as World War II wound down to its final campaigns, a series of advertisements from the "new" Gar Wood boat division began to appear. The new management of Gar Wood Industries decides to restyle their boat line and Norman Bel Geddes, noted industrial designer, is retained to give Gar Wood boats a complete new look. This was a decision of great magnitude because it meant total re-tooling of their patterns, costly new set ups and high production costs.
The new post-war Gar Wood designs were introduced at the 1946 National Motor Boat Show to an enthusiastic audience. The designs were superb and worthy of the great Gar Wood tradition. But their new boats were expensive and production was slowed by lack of quality materials. Shipments were delayed and production was constantly interrupted by shortages. Dealers sold their impatient Gar Wood customers other boats that were available.
Gar Wood concentrated on building the small 16′ utility that had very little bright work and white painted sides. The boat was easy to build and was the lowest priced boat in the line. The other boats took longer to build and required higher quality matched mahogany. In addition the larger boats required much more hardware which was still hard to get in 1946 and 1947. Strikes by major suppliers resulted in repeated production delays.
At the 1947 Boat Show Gar Wood shocked the public by displaying 4 models that had all painted finishes – no varnished mahogany. Whether this decision was for dramatic showmanship to attract attention or due to the lack of quality mahogany was never determined. However, in less than 6 months from the show Gar Wood boats would cease production forever.
Before the end of 1947 Truscott Boats and Cygnet Boats introduced a line of boats that were identical to the post-war Gar Wood designs. Within 2 years, they too were out of business.
Gar Wood produced boats from 1921 to 1947 excluding the four years of World War II. It is estimated that over 10,000 Gar Wood boats were built during that period. Yet less than 300 Gar Wood Boats are registered with the Gar Wood Society and ACBS. Gar Wood Boats will always be among the most sought after craft among wooden boaters and every one is a classic!